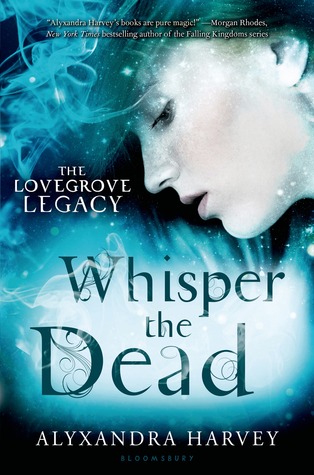 Blurb: Cousins Gretchen, Emma, and Penelope are all dealing with what it means to be a Lovegrove. For Gretchen, it means she often feels like her head is going to explode. As a Whisperer, Gretchen constantly hears the whispers of other witches' spells. And while this does help her to know when one of her own spells is going wrong, the incessant buzzing and pain the whispers cause makes it difficult to use her gift.
But when something evil begins to menace Mayfair, Gretchen must find a way to master her power. Along with her cousins, a madcap named Moira, and the icy yet irresistible Tobias Lawless, Gretchen faces deadly threats and unimaginable loss in the hopes of preventing the terrible Greymalkin Sisters from rising again.
The second book in The Lovegrove Legacy trilogy, Whisper the Dead will leave readers spellbound.
---
I completely loved "Whisper the Dead," I can't talk too much about the book because it's a sequel and I don't want to spoil it, but it's a book you must read. It has an amazing plot, a lot of characters. Besides here we met Tobias Lawless, and you want to know him.